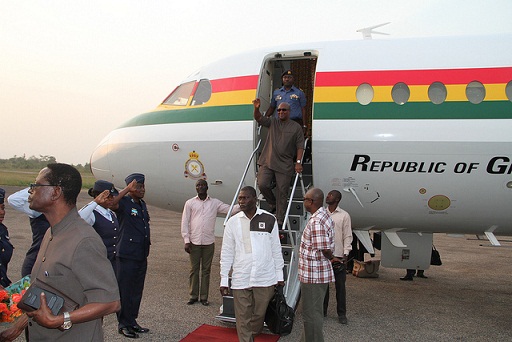 President John Dramani Mahama will be holding discussions with Nigerian President, Goodluck Jonathan in Abuja, today, Thursday, 8th May 2014.
The discussions will focus on the security situation in Nigeria, in view of the deadly and destructive activities of the Boko Haram terrorist group.
The Abuja meeting will be taking place at a time the Nigerian government is exploring all avenues to rescue over 200 schoolgirls who have been abducted by the Boko Haram group.
Boko Horam has claimed responsibility for over 1500 deaths of people as well as the abduction of 20 school girls in an hour-long video obtained by Agence France-Presse (AFP), of a man identifying himself as Boko Haram's leader, Abubakar Shekau.

The Group was formed in 2002 by Mohammed Yusuf, who died in 2009 within police custody, and has since been terrorizing the northern part of Nigeria, most recently attacking market women in the Borno State.
President Mahama, who is the Chair of the ECOWAS Authority of Heads of State and Government, has, since 23 April, written on behalf of colleague heads of state of West Africa to the Nigerian President, expressing concern, solidarity and support of ECOWAS member-states to the Government and people of Nigeria as Africa's most populous nation addresses its pressing security challenges.
Also ongoing in Abuja, Nigeria is the 2014 World Economic Forum for Africa.
Source: FH Bureau of Communications