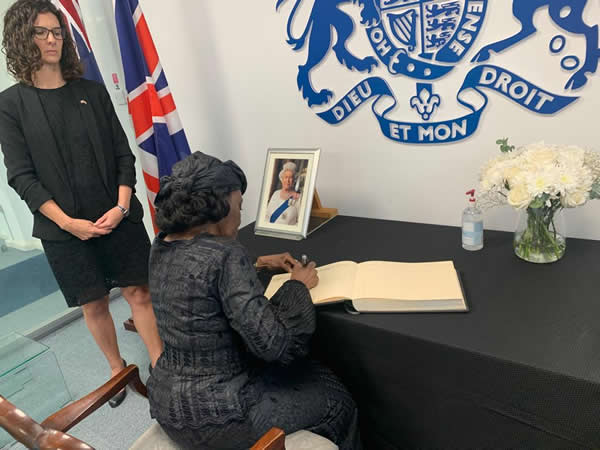 Former First Lady, Nana Konadu Agyeman-Rawlings, has described the late Queen of the United Kingdom, Queen Elizabeth II as an enigma who left a lasting impression on her memory after they first met when she was only 14 years old.
She said the Queen lived a full life filled with great achievements which will long continue after her death.
Nana Agyeman-Rawlings eulogised the late Queen when she signed the Book of Condolence opened in her memory at the British High Commission in Accra.
Condolence
Quoting the words of the British poet, Minnie Louise Haskins, she wrote: 'And I said to the man who stood at the gate of the year: 'Give me a light that I may tread safely into the unknown.'
And he replied: 'Go out into the darkness and put your hand into the Hand of God. That shall be to you better than light and safer than a known way.'
'So, I went forth, and finding the Hand of God, trod gladly into the night. And He led me towards the hills and the breaking of day in the lone East.'
The former First Lady also prayed for the soul of the departed British monarch and an eternal rest for her, and indicated that both Ghana and the Commonwealth were mourning the loss.
While expressing her deepest condolences to King Charles III, she also congratulated him for being the new monarch.
Lasting memories
Earlier in an interview with British Broadcasting Corporation's (BBC) Bola Musuro, following the death of the Queen on September 8, Nana Agyeman-Rawlings recollected her meetings with the late Monarch.
"I met the Queen the first time when I was 14 years, performing for her in my secondary school which used to be the Prince of Wales secondary school, now known as Achimota. I was the one who gave her the flowers and I still remember it till today.
"During the time of my husband, and indeed, during the period of his governance, it was very interesting to meet the Queen in various settings," she said fondly.
British High Commissioner, Harriet Thompson, was grateful Nana Agyeman Rawlings found time to sign the book of condolence and commiserate with the government and people of the United Kingdom.
"We appreciate you being here to commiserate with us and grateful for the kind words," Ms Thompson said.
Source: Graphic Online