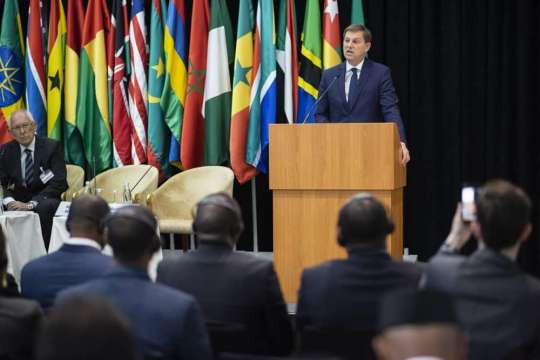 The Deputy Prime Minister of Slovenia, Dr. Miro Cerar, has pledged his country's support for the efforts of African countries towards sustainable development and the implementation of the priorities defined in the Agenda 2063 for Africa's development.
Speaking at the 2019 Africa Day International Conference in Lujbljana, Slovenia, Dr. Cerar, who is also the Minister of Foreign Affairs, extolled the virtues of Ghana, and Africa, as a whole, describing the region as 'one with the fastest growing economy and great potential for the future'.
Agenda 2063 is a strategic framework for the socio-economic transformation of the continent over the next 50 years. It builds on, and seeks to accelerate the implementation of past and existing continental initiatives for growth and sustainable development.
According to a press release, issued by the Public Relations outfit of the Ministry of Foreign Affairs and Regional Integration, and copied to the Ghana News Agency, in Accra, representatives from more than 30 countries in Africa and the European Union are attending the two-day conference.
 The conference, which is the eighth in a series, seeks to examine the future of African and European relations and cooperation in the context of changing demographics, employment opportunities and migration patterns.
Addressing the theme, "Economic Transformation, Inclusion and Jobs: The Role of European and African Partnership", Mr Mohammad Habibu Tijani,  a Deputy Minister for Foreign Affairs and Regional Integration, said Africa and Europe were compelled to build strategic  partnerships in their common quest for solutions considering the challenges facing the global community in the 21st century.
"As you are aware, the EU is Africa's leading partner in trade, foreign investment and development as 36% of Africa's trade is with the EU," Mr Tijani stated.
"On average, Africa receives about EUR 22 billion in EU Official Development Assistance (ODA) yearly. About 40% of Foreign Direct Investments (FDI) in Africa are EU investment stocks.
"Our two continents are, therefore, compelled by our common history to build on the gains made so far and work towards building a better life for our future generations".
He welcomed the Alliance for Sustainable Investment and Jobs between Africa and Europe as a laudable initiative that had the potential to transform the economic fortunes of the African continent should it be implemented in the spirit of a true partnership.
Outlining the Government's plans for the next four years, Dr. Mohammed Awal, the Business Development Minister, emphasised that Ghana was the best destination for business.
The focus was to look for macro-economic stability, while ensuring that dividends trickled down to give stability to micro-economic gains.
Modernising agriculture, industrialisation, infrastructural development, Human Resource Development and entrepreneurship, he said, were the five surest ways to achieve the set objectives aimed at growing the economy.
Source: GNA