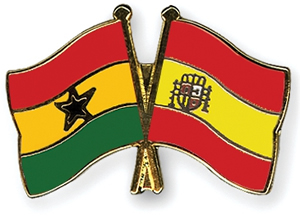 The Ambassador of Spain, Ms Maria Alonso,  on Friday expressed concern about illegal migrants who jump walls daily into Spain,  but commended the  government of Ghana for collaborating effectively with the Spanish Government whenever Ghanaians are involved.
She noted that Ghana has so far managed illegal migrant issues professionally, stressing that repatriation of illegal migrants in Ghana was going on successfully.
Ambassador Alonso said several years ago, Ghana and Spain suggested a legal framework to combat organized crime; "Spain is still awaiting Ghana's response to see if they can continue with the co-operation.
"We must put in place a legal framework to facilitate its implementation."
Ms Alonso stated this during an official working visit to the Minister of the Interior, Mr Kwesi Ahwoi in Accra.
She, therefore, expressed the hope that her visit would continue to foster the relations between the two countries.
Ms Alonso said the visit, the second in less than three months, was to interact with members of government, especially ministries that Spain has more bilateral relations with.
Mr Ahwoi reminded the Ambassador for the collaboration between Ghana and Spain to build six cold stores along Ghana's coast.
He said so far three of the cold stores have been  completed,  but the other three are still on the foundation level, and appealed to the Spanish Government to complete them.
The Minister said they were aware the company contracted was bankrupt and urged the Spanish Government to find a new company to execute the project.
He, therefore,  expressed the hope that the two countries would continue with the bilateral relations.
Source: GNA