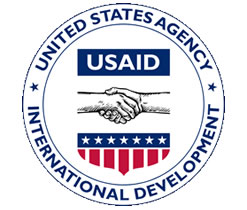 A delegation from the United States Agency for International Development (USAID),  has paid a working visit to Sutapong, in the Upper-Manya Krobo District, to explore possibilities of investing in agriculture processing and marketing.
The visit followed Ghana News Agency (GNA) media reports about lack of markets for the produce of farmers in the area, due to deplorable roads as part of the GNA Media Auditing and Development Tracking project in the district which is sponsored by Star-Ghana.
The team, led by the out-going Regional Minister, Mr Julius Debrah and his Deputy Ms Mavis Ama Frimpong, visited vegetable farms and interacted with the farmers to know their challenges.
The farmers told the delegation that, their farm produce rot on the farms, because of the bad roads leading to the area, as a result of which commercial vehicle drivers do not want to ply the road.
They complained that after several months of hard farming activities, they lose out because majority of their farm produce which were mainly vegetables rot before they get to market centers.
The farmers therefore wanted the roads to be rehabilitated, as well as creating marketing avenues where their produce would be bought directly at the farm gate to prevent them from rotting.
At the time of the visit, heaps of garden eggs bagged several days ago were found on the roadside awaiting vehicles to be transported to marketing centres and GNA gathered that,  a maxi sack of the garden egg is sold at Gh¢25.
Mr Debrah assured the people that, as a matter of urgency, the Department of Feeder Roads would be contacted to liaise with the Assembly to put the road leading to the area into good shape, to facilitate their farming activities.
He noted that, the deplorable nature of the road would not attract any investment to the area, and therefore would ensure that something would be done immediately to reduce their plight.
Mr Tetteh Angmor, District Chief Executive for Upper Manya Krobo, disclosed that very soon an electrification project would begin in the area,  and the community would have electricity as well, to improve upon their living conditions.
The USAID delegation led by Mr Andy Karas, Acting Mission Director of USAID, later visited, Mepom, Asuokwa and Adeiso farming communities in the Upper West Akyem District,  and indicated that they were interested in contributing towards the improvement of  agriculture in the region.
Source: GNA