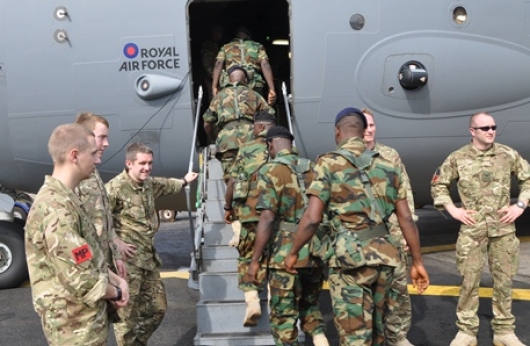 A high-powered Ghanaian delegation is scheduled to leave Accra Thursday for South Sudan to negotiate the release of intercepted military equipment to Ghanaian soldiers on a peacekeeping mission in that country.
The South Sudanese authorities intercepted arms, ammunition and other items in a container which was mistakenly labelled as construction materials by the United Nations (UN).
The four-member delegation, led by the Deputy Minister of Defence, Mr Ebenezer Okletey Teye Larbi, is tasked to hold meetings with the South Sudanese authorities and United Nations (UN) officials on the need to hand over the military equipment to the Ghanaian soldiers.
Other members of the delegation are the Chief of Army Staff, Major General Richard Opoku-Adusei, the Chairman of the Parliamentary Select Committee on Defence and Security, Mr Fritz Baffour, and the Forces Sergeant Major, Chief Warrant Officer Owusu Dickson.
Defence Minister
The Minister of Defence, Mr Mark Woyongo, who made this known to the Daily Graphic, indicated that the UN shipped the container from Cote d'Ivoire to South Sudan in February this year.
He said the container was meant to be delivered to the military base of the Ghanaian soldiers in South Sudan but it was intercepted by South Sudanese officials.
He said following discussions between President John Mahama and his South Sudanese counterpart, Salva Kiir,the South Sudanese authorities agreed to release the container.
However, after scanning the container, the South Sudanese authorities found that it contained military equipment and subsequently decided not to give it out again.
Intervention
The minister said following that decision, he called the South Sudanese Ambassador to Ghana last Thursday for a meeting on the issue.
He said it was the outcome of that meeting that a decision be taken to send the delegation to South Sudan to talk with the authorities there to seek the release of the equipment.
Safety of Ghanaian soldiers
There are currently 300 Ghanaian soldiers on a peacekeeping mission in South Sudan. The soldiers were earlier in Cote d'Ivoire before they were moved to South Sudan in February this year.
According to Mr Woyongo, Ghana would be sending an additional 550 soldiers to
South Sudan by the end of July this year to raise the number to 850 and form a battalion.
He said it was, therefore, important for the South Sudanese authorities to release the military equipment to the Ghanaian soldiers for them to protect themselves against attacks.
The minister said it was dangerous for the Ghanaian soldiers to carry out their peacekeeping operations without any equipment.
"We are concerned about the safety of our soldiers. We value their lives. We do not want them to be slaughtered.
We do not want to lose the lives of our soldiers. That is why we are sending the delegation," he said.
By: Daily Graphic